Visa NZ Hospitality Scholarship
The Visa New Zealand Hospitality Scholarship launched in 2023 as a nationwide initiative offering the chance of a lifetime for hospitality workers to propel their career forward with long-term, professional development tailored for their successful future in hospitality.
About the Scholarship
The scholarship is open to all hospitality workers - in the kitchen, on the floor, behind the bar, young professionals working their way into restaurant management, and any other facet of the hospitality and restaurant sector – who are: 
residents of New Zealand with the right to work here

aged between 22 years and 35 years (at time of application)

employed and working in the New Zealand restaurant and hospitality industry 

have a minimum of two years' relevant experience in the industry

able to self-nominate or be nominated by a manager or colleague.
The 2024 scholarship dates are still to be announced.
The Scholarship Prize
The 2023 Visa New Zealand Hospitality Scholarship winner will win a prize tailored to their career interests, stage, and progression, including: 
A five-day work experience placement internationally at a restaurant or hospitality establishment (Including flights and accommodation). 

Attendance at an international professional development forum such as Food on the Edge or Tales of the Cocktail (including flights and accommodation).

Professional skills development including a year-long mentorship. The experience will be catered to the Successful Applicant's area of expertise within the Hospitality Industry. 

Access to a Social Media specialist for personal brand development coaching.

Access to virtual business skills training, which includes access to EAP (mental wellbeing support), physical well-being support, career coaching and financial advice. 

A trip to Wellington for the 2023 Visa NZ Hospitality Scholarship Announcement including flights and accommodation. A trip to Wellington to attend the 2024 Visa Wellington On a Plate Festival, (including flights and accommodation) and potential for involvement in a festival event. The total prize value is NZ$30,000.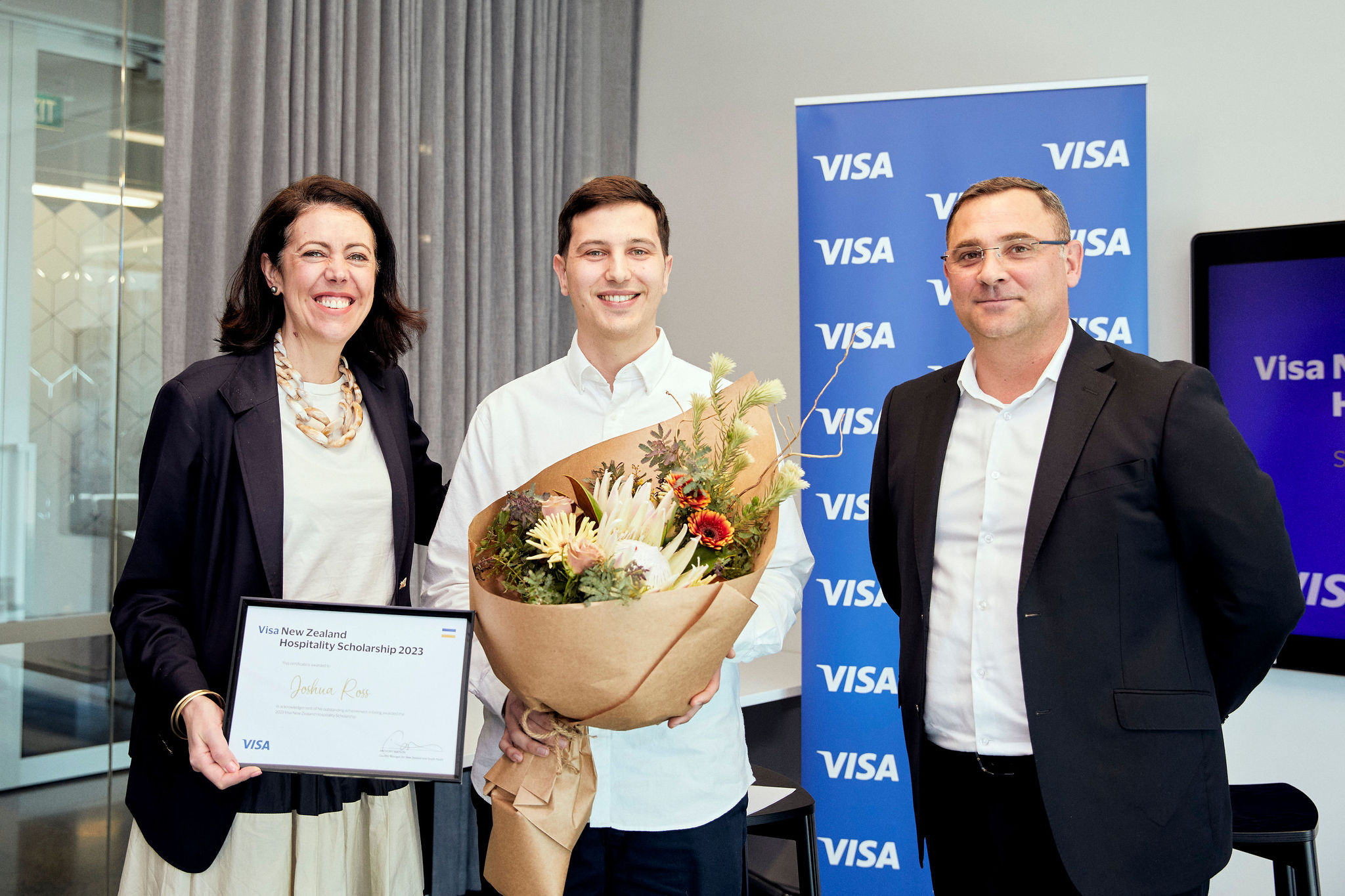 2023 Scholarship Recipient
Chef Joshua Ross of Wellington has been named the inaugural winner of the 2023 Visa New Zealand Hospitality Scholarship. Josh, aged 27, is currently the Head Chef at Bellamy's by Logan Brown as well as the owner of Lower Hutt café, Twenty Eight.
In 2023 the scholarship attracted 39 applications from all around New Zealand. Lena Speed of Loretta in Wellington, and Zane Neustroski of Mr. Morris in Auckland were also finalists.
Josh says he is honoured and is particularly excited about the opportunity to benefit from a mentor as well as the chance to travel overseas to experience different kitchens and culinary scenes.
"I'd like to thank all the people who supported me along the way, this is such a great initiative for young hospitality professionals. It's encouraging to have opportunities like this to push outside our comfort zones and learn more."